Welcome to the DC Comics Presents The Flash Wiki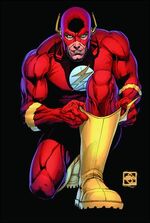 Bartholomew Henry "Barry" Allen is a superhero in the DC Comics universe and the second character to become the Flash. He is the protector of Central City and the creator of the Speed Force.
Barry was just a police scientist working for the Central City Police Department who had a reputation of always being late to work. One night during a storm, Barry was working on an experiment in the police station when a lightning bolt struck through a window and shattered a chemical cabinent. The electrified chemicals covered Barry, granting him superspeed. Deciding to use his new powers to fight injustice, Barry became the second Flash.
Loading RSS data...
Ad blocker interference detected!
Wikia is a free-to-use site that makes money from advertising. We have a modified experience for viewers using ad blockers

Wikia is not accessible if you've made further modifications. Remove the custom ad blocker rule(s) and the page will load as expected.